Back in Action
We have been a little sluggish with our social media efforts till now. Reason why you haven't seen too many blog posts since inception. But that is all set to change.
In the recent past, in general we have been initiating a shift towards more openness and transparency. We expect that this will help our clients make better sense of their long distance personal, business relationship with their VAs. It's a push towards opening our doors a little wider, for the whole world to see. So you will get to see a lot more posts from us, very frequently on what is happening out here. Stay tuned!
Back in the News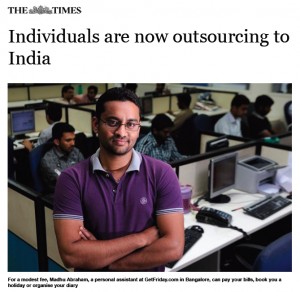 Leah Milner from the Times Money (UK) did a story on GetFriday titled "Individuals are now outsourcing to India". After running a thorough road test wherein she tested Madhu Abraham (our VA) on a variety of tasks including some mischievous ones where she tests his tact, here is her verdict.
"Testing the limits of the service, I request that he writes a humorous blog for Money Central on the cheapest wedding venues, but Maddy says that while he is happy to do the background research he is "not a good writer". I reflect that it is probably just as well that I cannot outsource every aspect of my work or I would soon be out of a job."
Thanks, Leah!!
Here's the link, if you do have a Times subscription.

http://www.thetimes.co.uk/tto/money/consumeraffairs/article2926600.ece
(Unfortunately, the article cannot be accessed without a subscription and Times will take offense if we publish it without a syndication. Don't quite get the logic. You take a picture and write a story about us for the entire world to see and won't allow us to publish it without syndication!)
Sunder P

CEO