I wanted to introduce you to Andrew Norman Wilson, a 27-year-old MFA candidate at the Art Institute of Philadelphia Chicago and a client of GetFriday who has pushed the frontiers of outsourcing to attempt something unique in the context of globalization and the society, at large. And no, this is not an April Fool's prank!
His experiments have been featured on the Philadelphia Weekly and it makes an amazing read.
Read more about it here: http://www.philadelphiaweekly.com/arts-and-culture/art/Virtual-Assistance-Humanizes-Outsourcing.html
His work is pioneering and has explored a completely new dimension in the context of relationships in the global workplace. Our assistant Akhil in the process, probably re-discovered himself and most importantly his creativity, working for a client who sometimes even resorted to role reversals as part of the experiment. Unfortunately he left us for personal reasons, just after this experiment concluded.
I distinctly recall the days when Andrew had probably just signed up (early 2009) and been there for a month or so. People used to come to me seeking approval on how much info can be shared, since his requests were weird. The information he asked for was mostly related to internal company policies or perhaps was simply too personal for comfort. There were no regular tasks, no deadlines but merely experiments with oneself and his environment. The initial alarm bells were to watch out for someone who is trying to study us and maybe clone the service. Or something even worse. But once we got to know him better, we understood that this was different and that he meant no harm for us. And most importantly, we agreed to this project because we needed to explore new territory to learn and renew ourselves. Here is a pic of the toy boat built by Andrew based on Akhil's idea.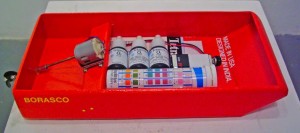 Thanks Andrew for giving us this opportunity and wish him all the best!
You can see more of the project on his website
http://www.andrewnormanwilson.com/portfolios/35581-virtual-assistance
On a different note, here is a fabulous illustrative video from the RSA (Royal Society of Arts, Manufactures and Commerce) on the topic of Empathic Civilization. Very relevant to Andrew's experiments.
http://comment.rsablogs.org.uk/2010/05/06/rsa-animate-empathic-civilisation/
Must confess that am a big fan of RSA Animate.
Sunder P
CEO