Can the Internet make a difference in a country like India that has 37 percent of its 1.2 billion population living below the poverty line? According to the Indian Planning Commission (govt. body that sets India's economic policy) the poverty line for the nation's cities was 578 rupees ($12.75) per person a month. For rural India, it's even lower at about 450 rupees ($9.93) per month. The World Bank global poverty line, at $1.25 a day or about $38 per month, is three times higher than India's urban level. In this context, does having the Internet or not having it, make any difference to the common man or people living in abject poverty?
While it is appears that the statistics make the Internet look inconsequential to people living below the poverty line, there certainly is more than a glimmer of hope.
One of the earliest Internet based initiatives (launched in 2000) in the rural sector that found success was the e-choupal from ITC. Prior to that, farmers in rural markets were deprived of market information and were forced to sell their produce through middleman at 'mandis' (indian term for agri markets). ITC empowered farmers by setting up internet kiosks in villages that enabled access to real time market price info for their farm produce. ITC (that required the farm produce) benefited from making their supply chain more efficient through direct buying from farmers. Since then 6,500 e-choupals across 40,000 villages have empowered more than 4 million farmers in 10 different states. A clear case that grass roots application of technology can make a huge difference in the lives of people.

ITC, incidentally started life as the Imperial Tobacco Company (sharing ancestry with Imperial Tobacco, UK) and then was known as the Indian Tobacco Company before being rechristened as ITC. They took their rechristening quite seriously and worked on changing their portfolio and becoming one of the most respected firms in the area of CSR. There are many more companies like Bharti, HUL, Tatas and foreign firms such as Google and Microsoft that are trying to make a difference in this space. Unfortunately, all their work put together will only amount to a drop in the ocean due to the vast expanse of India's rural landscape.
Recently the Govt. seems to have woken up and is coming up with an ambitious plan to connect 160 million Indians with high speed internet by 2014. Only time will tell whether they will succeed or allow India to fall way behind the other BRIC nations in terms of Internet connectivity. Watch the video and read Moska Najib's report for BBC "Bringing the Internet to Rural India's business community".
If there are still lingering doubts on whether the Internet can play a role. Have no doubts, it certainly can; in education, tele-medicine and micro finance. Looking at this 2008 report "Internet changing life in Bihar & Orissa villages" by Nilanjana Bose for CNN-IBN it is clear that there is no dearth of ingenious ideas (DakNet) for using technology (wi-fi and wi-max) to connect villages that were hitherto unconnected. You can also see how the spread of knowledge and skills happens so fast with the Net that people can be trained to become employable with some efforts (in areas that don't hinge on how well you speak English).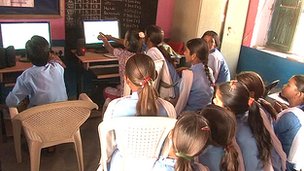 And with connectivity, knowledge and awareness of opportunities improve and with it, lives of people are expected to improve.
Speaking from our own personal experience at GetFriday, a significant number of our employees are from tier-II towns and rural centers. Some of them would not have stepped out of their towns all through their lives. But with a little bit of skill development and training, these same people manage to cut across cultural barriers, develop personal relationships with their clients and handle work across the globe. It is just amazing that very many innovations and ideas would not have been possible without the Internet.
Knowledge is awareness and awareness empowers people. In a bid to create social uplift through entrepreneurship, good friend and veteran of the Indian IT industry, Dr Sridhar Mitta created a social entrepreneurship firm "NextWealth". The idea is to provide IT and BPO services for the Indian domestic market through partnering with entrepreneurs who run centers that locally employ people in rural markets. Here is a Knowledge@Wharton report on this innovative concept.
Arogyaswami J Paulraj, a professor emeritus of electrical engineering at Stanford University, says Mitta and his team are on the right track. "Offering employment opportunities to segments of population that have been locked out so far will make India more competitive in an increasingly tougher world market for IT services." The social impact, Paulraj adds, will be to "improve wealth distribution and reduce migration to larger cities."
If the Govt. does its bit then technology can be real game changer for improvement of society. Especially in places like rural India or sub-Saharan Africa.
Sunder P
CEO
All rights to contents referenced in this article belong to the respective copyright owners.