In 10 years of GetFriday's existence, we have handled a lot of CRMs! Our insights for this blog are derived from this experience.
Our clients have been at times, early adopters of these tools. We also happen to have a huge client base of entrepreneurs and small businesses. This has enabled us to have a 360 degree view of CRM usage or its lack of usage.
Without doubt CRMS are useful tools for e-commerce
It is true that CRM software can help e-commerce businesses provide excellent customer support by managing and storing all data related to customers and transactions. Though all this can be achieved through other online tools, the beauty of buying CRM software is to be able to utilize it in such a manner that it can take care of your business needs automatically while allowing you to focus on improving your sales conversion rates considerably.
Nevertheless, majority of companies fail to benefit from CRMs and end up losing huge amounts of money. We have identified 5 reasons for the failure of CRMs in the e-commerce industry through our longstanding experience of serving e-commerce clients.
This blog is also summarized in the form of Slideshare presentation. Please click on the below image for the presentation.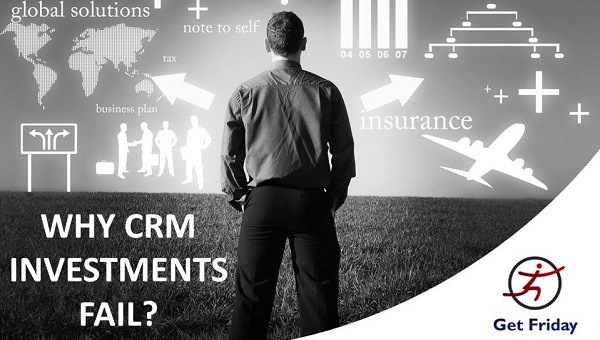 5 Reasons for CRM Investments Failure
1. Not utilizing full capacity of CRMs
Imagine you hired an employee for your small e-commerce business, and are unable to use 40% of this person's skill. A smart business owner should ideally be worried. But somehow, business professionals do not worry about the unused capacities of assets. Our internal data shows many entrepreneurs do not utilize as much as 40 % of CRMs capability.
This is not because there is a problem with the CRM software, but because e-commerce businesses often miss out on critically analyzing the requirements of the CRM within the business at the outset. These CRMs generally have limited or no use in the business and are dead resources. This renders the CRM a misfit within the e-commerce business if not employed correctly.
2. Buying a CRM too early
Define the CRM requirements first before jumping into which CRM to buy. If you are just starting out as an e-commerce company, your focus ideally be targeted towards expanding your client base, attracting as many customers as possible and achieving breakeven sales with your products online. Managing customer relations and records in an organized database is also, extremely important. But Google drives and other free tools do an equally good job.
Therefore, if you are starting out, it would be wise to analyze if using a CRM at this stage can prove to be fruitful. We suggest you to start lean.
3. Not setting objectives, goals and targets for CRM
One way to derive maximum from your CRM is to set a clear objective, goal and target. Treat your CRM as an asset that needs to justify its costs.
With CRMs being implemented in businesses across industries in today's world, SMEs and upcoming e-commerce companies may find it necessary to implement CRMs in their own businesses, without understanding how the features can be fully utilized to boost business efficiency.
The requirement for a CRM is the result of much deliberation over difficult business truths such as dwindling sales, strained customer relations, service woes or escalating marketing issues. The mistake takes place with the first step when businesses implement CRMs without understanding its features, the metrics it has to offer and how in turn a CRM can help your e-commerce business grow.
4. Owning a CRM only as a social norm
Over these years, we have seen entrepreneurs rushing to buy a CRM as a part of their initial start up infrastructure. They utilize it to supplement their daily meetings with prospects and networks and end up buying CRMs only because others in the industry have implemented them and because they assume it is necessary.
Though the assumption may not be entirely wrong, we strongly suggest you ask yourself these 4 simple questions before you buy a CRM –
Can it solve the problems in my business?
Does it suit by budget?
Can it integrate seamlessly with my existing software and systems?
Is it necessary at this point of my company's operations?
CRMs should not be implemented just for the heck of it and just because every other company in the block is using a Salesforce or a Zoho. It should only be employed if an e-commerce business has the resources for it, has the ability to answer these questions and be able to present solutions for it.
5. Inefficiency in uploading the data in CRM
The data you capture from your customers need to be updated in a timely manner into your CRMs. This requires your time and devotion. Typically our study shows, that the lack of time to enter data into CRMs remains the single most problem for entrepreneurs and e-commerce store owners alike. We suggest you hire a virtual assistant to handle this work seamlessly.
If you want to avoid the possibility of failures, your first step should be to take care of these 5 reasons. Since investing in a CRM is a big deal, make sure you have your goals defined and its needs/requirements for the business sorted before you take the plunge. After all, CRMs are assets and like any other asset, need to be justified for its costs and employed properly for maximum benefits.