Holiday season is near and this is the time online stores see a surge in sales. But like all things in life you need to be prepared. GetFriday has been around for 10 years now and we have come to understand and learn from our ecommerce clients, the essentials that are required to increase sales during the holiday season.
Click on the picture below to see this blog in a slideshare format.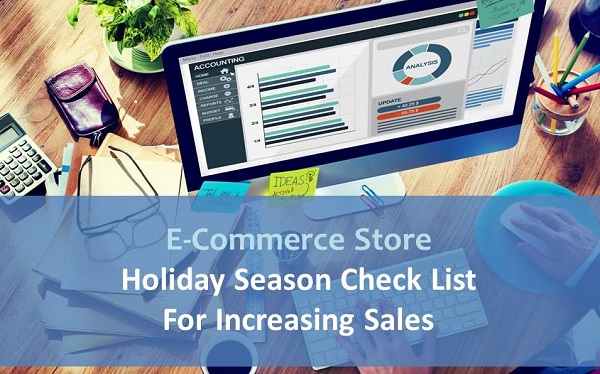 Here is a checklist for your quick consumption:
1. This is the best time to launch new products
This is the time of the year GetFriday associates get busy with remodeling e-commerce stores, resizing and editing the product images, proof reading the content, uploading products on amazon and rearranging the website display.
Most e-commerce firms would consider this as the best time to launch a new product. The chances of succeeding now are far higher than any time later. The known factor about customers is that they are willing to spend more during this season. US retail sales for December 2014 was $442.9 billion – this was an increase of 3.2% over December 2013.
2. Start early with promotions and campaigns
A recent study conducted by Oracle Marketing Cloud and Edison Research shows that consumers are doing their holiday shopping early, spending as much as $900 more in the month of October than in December. Start early with planning holiday promotions and campaigns.
Our data shows that e-commerce stores start preparing for the holiday season as early as September – October and are ready to launch their campaigns. This give enough time for e-commerce stores to conduct experimental marketing and figure out ways to succeed with customers. With consumers, too willing to take advantage of early shopping discounts and promotions, the timing of promotions and campaigns has gained relevance in recent times. Remember you are competing for the customer wallet.
If you are not ready for launching promotions for all your visitors in October, it is advisable to start campaigns with your existing database of clients. Give them the opportunity to take advantage of promotions before your new visitors. It is a known fact that cost of acquiring a new customer is higher than retaining an existing customer.
3. Increase your advertisement budget
Let us simplify advertising for you – As you reach more customers with relevant offers, chances of sales increases proportionally. Holiday season is the best time to increase your spending on marketing, as you know for sure customers are looking for your products. If not yours they will land on a competitor's website.
Research shows that social media has a major impact on purchasing choices made by holiday shoppers. "More than half of users (52 percent) say they learned about a product they later purchased because of Twitter, and it's so convenient to find gift ideas on Twitter that 39 percent say Twitter serves as their new holiday shopping list," a 2014 Twitter study found.
4. Is your operations ready for holiday season?
Make sure operational capabilities are ready for the holiday season. This is the time new customers would be experiencing your product and service, and chances of making them your loyal customer rests with the experience they will gain.
It is a common practice with large retailers to hire employees during holiday season to manage customer operations. Learning from this industry practice, you could hire virtual assistants to help manage operations during the holiday season.
5. Is your website spreading the joy – with analytics?
Your website needs to reflect the holiday season spirit and create the festive effect. Happy customers tend to buy more. You probably already know that the website is your store front.
Look at data generated from your campaigns to optimize your pages. Let the best sellers be visible to your customers.
6. Be ready for customers purchasing from their phones
UPS compass in its recent article How America will shop in 2015 quoted IBM data to reveal that mobiles accounted for 45 percent of all 2014 online holiday traffic and for 22.6 percent of online sales, a 27.2 percent gain over the 2013 total More than 50 percent of online shopping traffic came from mobiles during the five days from Thanksgiving to Cyber Monday.
These numbers drive home the point of need to be prepared with providing customers options of shopping through their mobiles and making their experiences pleasant and user-friendly.