Since 2005, GetFriday has been assisting many online footwear stores from Australia to manage their businesses. This got us curious about the state of affairs in the online shoes industry in Australia.
We conducted primary research with some 50 online footwear stores from the Australian region to assess the competitive landscape and analyze the industry in general. The results of this survey could be of interest to shoe e-tailers and online retailers, in general.
The Online Footwear Industry in Australia
Overview:
With revenue generation worth $416 million and an annual growth of 14%, the industry remains fragmented with players with low levels of market share according to a June 2015 market research report. The struggle for market share is reflected in discount wars to garner customers. Our primary research data shows that 73% of online shoe retailers offer discounts on products.
Why the online shoe industry is tough:
The online shoes industry is a tough environment to survive in. The entry barriers to set up an online shoe store are low and the numbers of online shoe stores are increasing. This affects the revenues of these stores, making them weak players in a large industry. Some market research data indicates, no single player holds more than 5% of the market share. For smaller online retailers, this could mean that more efforts need to be put into their marketing processes.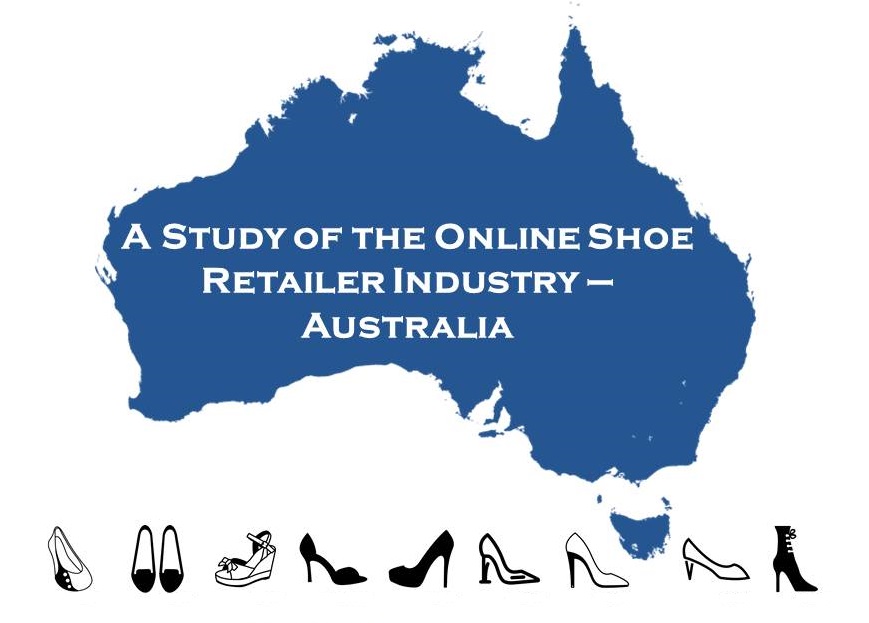 6 Tactics to Standout in the Online Shoes Industry:
1) Recognize What to Sell:
About 30% of the stores sell only women's shoes. On an average, these stores have collections of 300 products for customers to choose from. The stores selling both men and women's shoes have an average collection of 550 products.
Ankle boots, long boots, heels, flats, wedges, sandals, sneakers, pumps, peep toes, casuals are widely available and are the commonly listed products across online shoe stores for women.
The men's collection seems to be limited to athletic shoes, boots and work shoes – these being the most commonly available products.
Add value to design, material, branding, customer service and relations to differentiate your product offerings and increase your sales.
2) Push inefficiencies out of the sales and admin:
Our study shows that E-commerce stores generating 10 to 15 orders per day reach a threshold point that requires rethinking the sales and admin design of the store. The focus must shift towards increasing the efficiency of sales and admin, from a "manageable" state of mind. A good CRM and project management tool could help with the collection and generation of data and could also help manage your projects with clarity. One among the best practices is to outsource activities that could be done remotely. This allows you to focus on data and customer relations. Hiring a good Virtual Assistance company for these back-end admin tasks could be the best way to improve efficiency.
3) Leverage through Cross-Selling:
Most retailers assume that customers know their needs and wait for the purchase decisions to stem from this knowledge. A McKinsey report "Rediscovering the art of selling" in 2010 showed, 40% of customers are open to persuasion when they walk into a brick and mortar store. E-commerce is driven by choices and the discretion it allows to its customers. One can safely assume that E-commerce customers are willing to be persuaded even more with the right offerings at the right time.
Strategize about the products you wish to cross-sell and their placement on the website. A good starting point could be to analyze the sales data to understand the patterns. This will help you identify attitudinal preferences of customers.
Our study shows, on an average stores cross-sell 31 products across multiple categories. For stores selling ladies footwear, the most popular accessory to be cross-sold are handbags (37% of stores sell handbags along with footwear). Other items that are being sold along with footwear are heel stoppers, heel grips, hosiery, compression foot sleeve, gel cushion, feet blister plasters, heel cushions, shoe care cream, shoe care sponge, shoehorn, socks, sunglasses and wallets.
Cross-selling can be a good revenue stream for e-commerce online shoe stores. You should focus on the products mentioned above to increase your revenues. Again find your own niche and create that differentiator if you plan to stand out from the crowd.
4) Provide Discounts for higher Revenue:
A customer's purchase decision now significantly consists of opportunities to compare prices and reviews. This has dramatically altered the purchase decisions. An ever-growing list of online retailers have added to the competition and fragmented the market. In this scenario, it can be a difficult proposition to sell footwear, which must compete for space using design and appeal as the main differentiator.
Our study indicates online footwear retailers in Australia provide discounts through all seasons to attract customers. Our survey conducted in July 2015 shows, 73% stores discounted their select footwear products. 6% of stores have discounts on their available footwear collection. It is clear that discounts are being used as a tool to generate sales. It could also be used as a tool to clear stocks on a continuous basis before the next season's products arrive.
5) Create space for niche products:
Our survey shows less than 2% of stores sell niche products such as orthotic shoes and wedding shoes among many others. We recommend you to make space for these kinds of niche complementary products for higher ROI and differentiation as a part of your red ocean strategy.
6) Do not forget Social Media:
Almost every store we surveyed has a social media presence. Social media marketing is cost- effective and is therefore attractive to online retailers. The online shoe industry is no exception.
We conducted a survey to assess the activities of online shoe stores on Twitter, Facebook, Google+, Pinterest and various blogs. We found that 17% of stores have presence on all these social media forums. This means, online shoe stores look to engage customers' across multiple platforms and forums.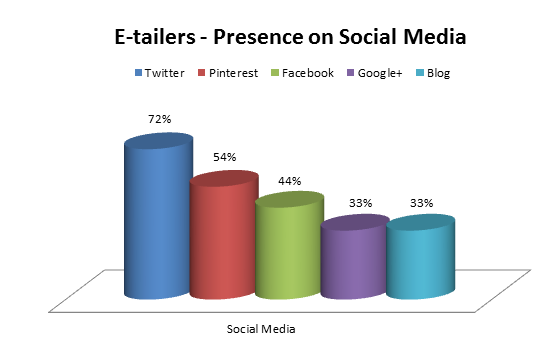 72% have presence on Twitter, 54% have presence on Pinterest, 44% have presence on Facebook, 33% have presence on Google+ and 33% have actively maintained a blog section. The store owners clearly see their presence on social media as vital to sales success. Smaller stores also face the risk of being unable to effectively utilize any single forum due to the lack of resources. In that case, you can outsource your social media activities to a VA firm and focus more on growth and business development.
Follow these 6 steps to make your online shoe business stand out in an already crowded e-commerce industry. Apart from the ideas mentioned above, hiring a Virtual Assistant firm for cost-efficiency and higher productivity, can work out to your competitive advantage.