Travel Industry – At The Cusp Of Change
The $144 billion vacation rental industry with over million listings, has taken the travel industry by storm. According to Vacation Rental Managers Association, 24% of leisure travelers are now choosing vacation rental homes over hotels and resorts. While this affords considerable opportunity to vacation home owners, not everyone is reaping the benefits of this industry.
Vacation rental owners often grapple with questions related to receiving more customers/ guests. The answer seems to lie with smart marketing practices. We have listed a few basic ideas that vacation rental owners could use.
Is Your Vacation Rental Lost In The Crowd?
Getting found in major search engines such as Google, Yahoo and Bing, is important. Your potential guests are looking for vacation rentals and if your website shows in the top 10 search results, you are bound to have a competitive edge over the others and it will also make it easier for people to find you.
With your website on top of search results, there are higher chances of increases in bookings and boosts in occupancy.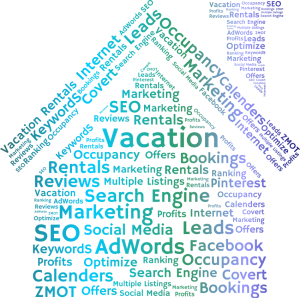 Three Reasons To Begin Marketing Your Vacation Rental Now
1)According to a Google post, it takes a mere 3 to 7 seconds for a shopper to decide on a buying a product/service. Known as the ZMOT, this is the most critical phase in the marketing cycle and is far more critical than the actual advertising itself. As vacation rental owners, you will need to understand how to capitalize on this period known as the ZMOT, correctly.
2)Google is the greatest source of traffic (70%) for websites and there are no two ways about it. Vacation rental owners need to understand how to a) be featured on top sites on Google, b) have all the SEO marketing done and in place in order to be traced by the search engine.
3)In the US alone, 87% of the population depended on the internet for majority of the travelling that took place through the year 2014. This information alone is vital for vacation rental owners, because in today's time and age it is important to understand how to scale your online presence and market your services effectively in order to rank on Google or be chosen by customers.
The 8 Stepping Stones To Vacation Rental Marketing Success
1. Keywords are Important:
The most important step in optimising your website is to finalise the keywords you intend to target. You must decide on the keyword for which you want to be found.
Opting for short tail and long tail keywords needs comprehensive research to filter out the best ones. Long tail keywords will give you an extra edge, making you more visible and will significantly boost your bookings. Gauge your competition thoroughly before you select your keywords because it is one of the most crucial steps.
Here is an example just for your reference:-
Short tail Keyword – Vacation Rental

Long tail Keyword: Clearwater beach Vacation Rentals
With the above example you can see the difference in search volume results.
The advantage of the long tail keyword is that you have lesser search volume and your visibility in getting found for such keywords are high. It is better to be a big fish in a small pond rather being a little fish in a big pond. It is wise to choose the keywords that make you visible to your niche audience with specific needs.
2. Meta Data:
Another key factor to build online presence is to optimise your Meta tags with proper keywords. This is important because your audience will identify you by these tags. Give an attractive two-liner to catch the eye of your potential guests and make sure that the keywords are inserted into the descriptions.
Here is a snippet of what Meta tags will look like on a search engine result:-

Capture the attention of viewers with an appealing story that describes the vacation rental aptly within 160 characters (as per Google's meta data guidelines).
3. Website Design & Aesthetics
A websites' aesthetics also affects the bookings for your vacation. Keep a tab on the website design and both, the quality and quantity of pictures. For example, replacing low quality photographs with quality pictures was the first step towards success for AirBnb. Thus, more quality pictures mean higher the chances of conversions. Keeping a 360 view video of your vacation home also gives prospective clients real-time views of your location. All these factors in combination will definitely add more value to your vacation rental and will attract more customers.
4. Call to Action:
Overall, the "call to action" buttons are meant to garner some action on your website. Highlight important buttons/tabs or position it in such a manner on the website that it attracts maximum attention.
Some of the "call to action" buttons on your vacation rental website can be,
– Toll-free numbers
– "Book Now" button
– "Check Calendar" to see the availability of the rentals
– Chat options
– Social media links to share/ like/post tweets on your page.
GetFriday, the virtual assistance company in Bangalore, India, conducted an in-depth analysis on 3000 bookings for vacation rentals. The results revealed that checking "calendars" and dates were of top interest to potential guests.
You can also see the Slideshare presentation for Vacation Rental Marketing by clicking on the picture given below.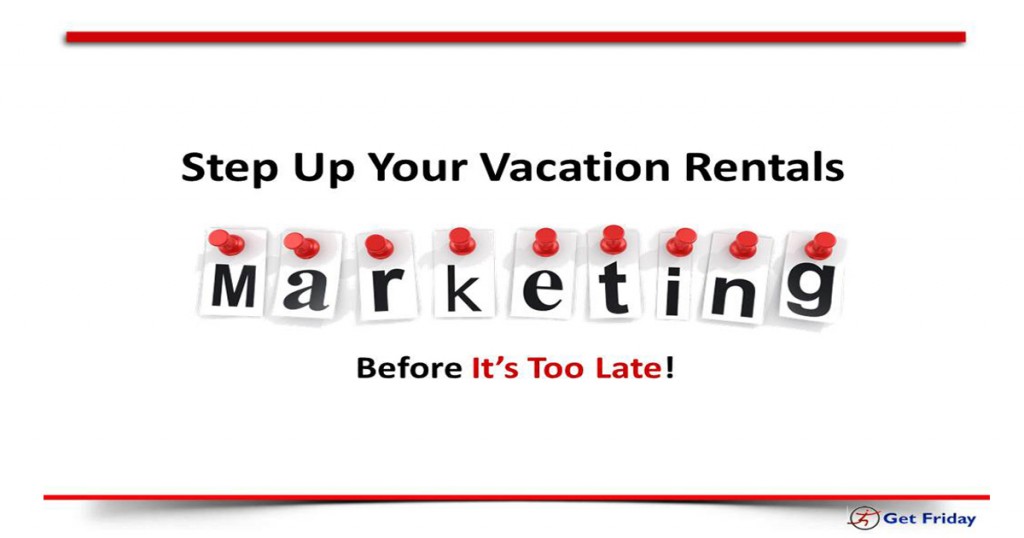 5. Push for an Ad Campaign:
Google says your potential clients decide in 3-7secs whether they want to buy a product or service. If your ads shoot up in Google, your chances of being chosen are high.
Go for a display campaign with pictures of your beautiful vacation rental with appropriate "call to action" buttons and other relevant details. Alternatively try out Remarketing campaigns that are even more cost effective, this would remind your visitors about your rentals. By marketing your offers and deals in your ads, you have better chances of increasing ROI.
6. Rave reviews:
Customers' decisions are greatly influenced by reviews. Guests spend at least 30mins to read reviews before making bookings and the better the review; the better the chances are of increased revenue in the long run. Being a good host and attending to guests personally will also ensure positive reviews from the guests' end. You can even capitalize on your reviews.
By adding your Google/Facebook reviews to your website's rich snippet, the ratings for your services will be visible in the search result itself and will immediately give prospective customers an idea of the quality of your services.
7. Update Social Media:
Keep your social media channels updated. Invite your clients to post reviews on your social media channels and personalize your requests by either sending them incentives or discount offers for the next time. Make sure your website is integrated to major social networks, so that your prospective customers can take a look at what you have on offer.
Social media channels also act as channels for branding and maintaining reputation. So, make sure you get those fab reviews from your guests. Don't chase them for it, but politely convince them to write honest feedback about your services.
8. Are you mobile-friendly yet?
As per Google's new algorithm change, your website needs to be mobile-friendly to boost your rankings on search results. Earlier this year, Google released mobile friendly metrics. So, hurry up and check if your website adheres to these metrics. Mobile usage has grown by leaps and bounds and around 30% of the bookings are made directly from mobile devices. It is wise to redesign your website if it is not mobile friendly yet.
These are the pointers that you should ideally have on "priority" checklist in order to have better ROI and to market your vacation rental more effectively. If necessary, seek the help of SEO professionals to make your website stand out and to guide you with how you can market your vacation rentals more effectively. Ultimately, prospective guests need to buy your service and it is the number of "conversions/booking" that matter after all.
More conversions= More revenue/growth for Vacation Rental Owners= More happiness.
GetFriday is your personal virtual assistant helping you offload your time-consuming & mundane tasks. You just don't get an assistant, but get access to an entire team with specialized skills to handle the entire spectrum of your business needs.
GetFriday (earlier YMII or YourManInIndia) is a service that was featured and used in the NYTimes best-selling productivity and lifestyle design book 'The 4-Hour-Workweek' by Timothy Ferris. Sign up now!