Customer reviews influence the purchase decisions of a potential consumer to a very large extent. Validation and confirmation of a decision is a human need, which psychologists describe as social proof. When a customer is at the 3rd level of the purchase decision process i.e. evaluation of alternatives; customer reviews about a company's offering can sway a consumers' decision to either side. A "Think with Google" consumer report, analyzing a traveler's road to decision making, states that 36% of leisure travelers and 42% of business travelers are influenced by travel reviews.
GetFriday's study was conducted on the basis of over 3000 customer interactions for vacation rentals and has thrown some light on some prevalent and interesting facts. It has been known for a while that positive customer reviews can tilt a potential guests' decision in your favor. But the extent to which it influences the swing is largely unknown to individual vacation property owners.
Please click on the below image to see the SlideShare presentation as well.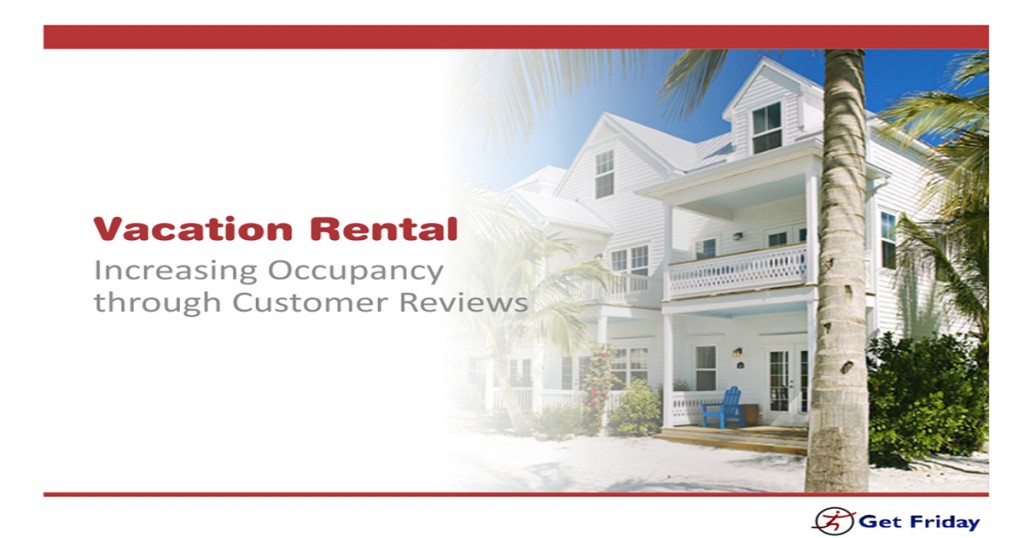 So here are our insights based on this survey
Guests Consciously Seek Out Reviews:
Our study shows that more than 20% of guests consciously cite past customers or their reviews while taking a decision about a property and even during their initial communication with the Rental Owners. The actual numbers of guests getting influenced by reviews and taking a final call on a booking based on that is much higher than we initially thought. We have also observed guests picking on the experiences of previous visitors while they seek confirmation about specific amenities like swimming pools, Wi-Fi, barbecues, shower facilities etc.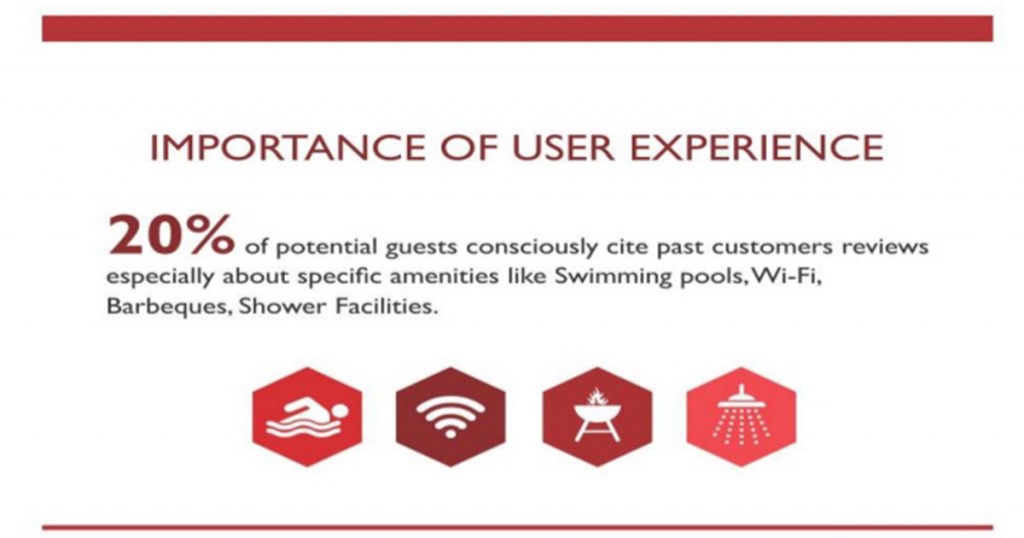 Customer reviews clearly generate interest and engage potential guests. And if certain vacation rentals are more successful and more sought after than the others; customers reviews would definitely be pointed out as one of the major reasons behind it.
Guests Are Wary About The Authenticity Of The Reviews:
While working with vacation properties around the world virtually, our experiences have taught us that many potential customers are also wary about the authenticity of customer reviews. Hence, it is of prime importance that Vacation Rental Owners display genuine and authentic comments and provide proactive feedback to reviews keeping their target audience in mind. Hence, managing customer reviews has become even more important now, as positive/negative reviews are directly linked to the overall rating of a property. It acts as a prime decisive factor for the customers while deciding to go on a vacation.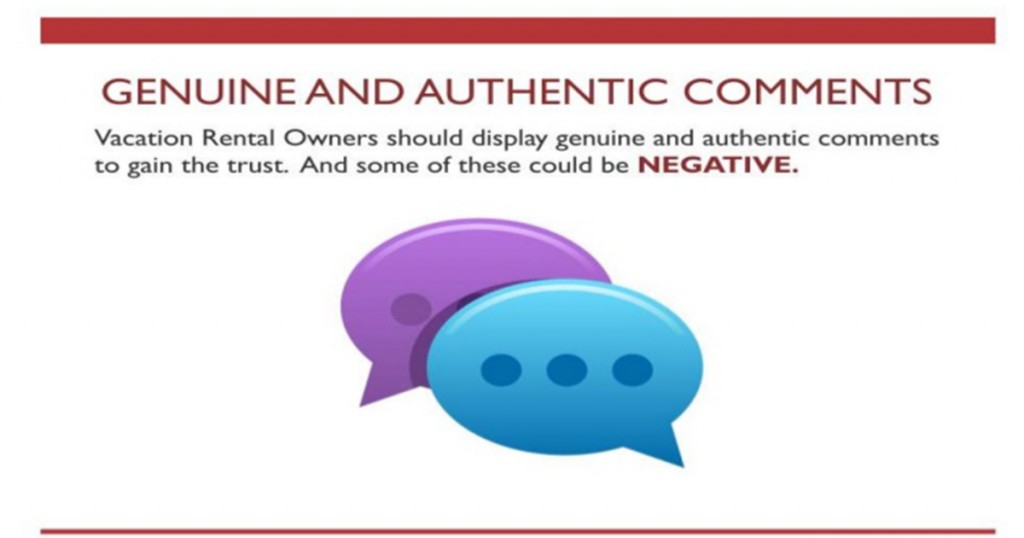 Negative comments are a part of regular reviews from customers and one should not worry about hiding negative reviews. Rental owners generally panic at the sight of negative reviews and instinctively seek methods to either confront the guest on the review forum or sometimes, seek to purge the negative comments.
Instead, Rental owners should address these negative reviews as soon as possible and try to resolve the issue at hand. The smart, professional manner in which a negative comment is handled on a public forum, can convert a dissatisfied customer into an advocate for your business.
Based on long-standing experiences with Vacation Rental Owners, we would suggest the following approaches to tackle negative reviews:
Address The Root Cause:
Most travelers are genuine and do not wish to make unwarranted comments. Address the concerns they might have had during their stay and convince the reviewer that it will not happen again. This will assure prospective guests of your trustworthiness and your willingness to solve problems. Responding to a complaint or negative review in a genuine manner is the first sign of a good business.
Gather More Positive Reviews:
If there is Yin, there is Yang as well. There is generally a good balance of positive reviews to offset the negative ones. A "HomeAway.com" survey states, 93% of guest reviews are positive (meaning a rating of 4 stars and above). This should assure you that a one-off negative review will not cause you harm; that is, if it is promptly addressed. Addressing the root cause in the first place and making sure that the same problem does not occur again will ensure that the quality of the service remains on the higher side and will also allow an owner to gather more positive reviews for the vacation rental house on an ongoing basis.
There Is Always A Bright Side:
A few negative comments peppered among positive reviews gives a more authentic look and feel to the review page. Though we do not have scientific data to prove this phenomenon, simple social logic seems to confirm it. If you had all but positive reviews, then the data looks suspect for the first time viewer, even if your service were impeccable.
How Do You Get More Guests To Write Review For Your Property?
1. E-mail each guest after they leave, thanking them for their stay and inviting them to leave a review.
2. While refunding the deposit, send your guests a note, asking them for reviews.
3. Most guests are kind enough to write reviews. If they enjoyed their stay, they most probably will write one anyway. To be on the safer side, just send them gentle reminders, do not hound or spam them.
4. If possible, be there for a personal good-bye when your guests check out. This adds a more personal touch to the experience and makes it a memorable one for your guest.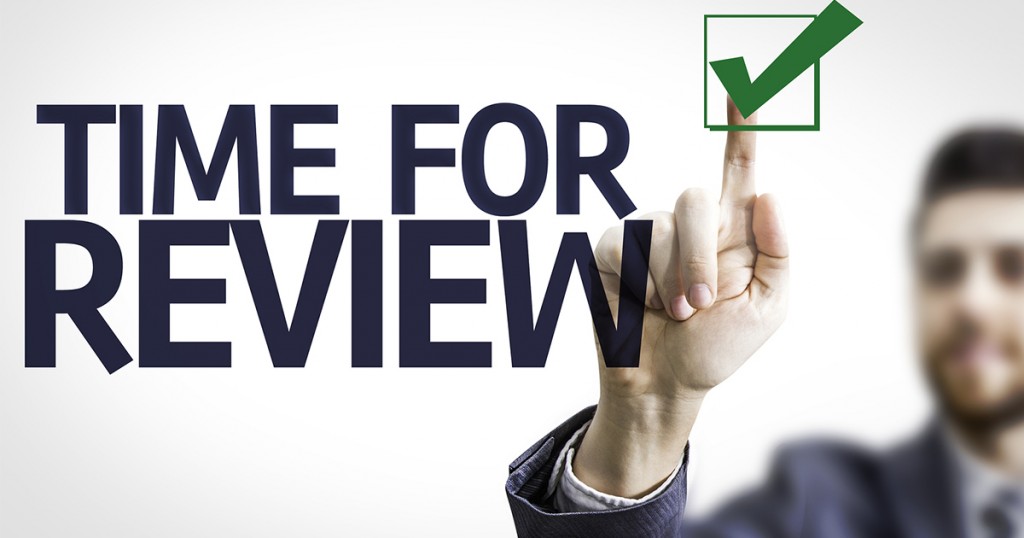 Vacation property owners need to treat customer reviews as another opportunity to market their property. When customer reviews are handled deftly with a clear strategy and objective, they could cause a positive impact on your business and its profits.
To sum up, vacation rental businesses can significantly benefit from the power of customer reviews in increasing their online presence and driving more bookings. As a leading virtual assistant and remote support provider, GetFriday offers vacation rental owners and managers a range of services to help them collect and showcase customer reviews effectively. By leveraging GetFriday's expertise in managing customer reviews, vacation rental businesses can not only increase occupancy rates but also improve their brand reputation and customer satisfaction.