GetFriday completed it 10 years of existence in the Virtual Assistance Industry in August 2015. This is a huge milestone to achieve for us and on this joyful occasion of turning 10; Team Get Friday would like to thank you all. You are the clients believing in our abilities and supporting us for very long time; we owe it all to our clients and the strong bonds we have fostered through time. Through the course of these 10 years, GetFriday has seen its share of ups and downs, but thankfully, we have had more ups than downs.
For 10 years, GetFriday has helped offload tasks for more than 13,000 clients around 60 countries with its personal virtual assistance services. A lot has changed and we are now slowly evolving to be a business support service from virtual assistance support. The competition has been tough. Many of our competitors have disappeared and others are stuck in middle age blues. Our steadfast focus on learning from our customers has enabled us to survive and flourish for a decade now.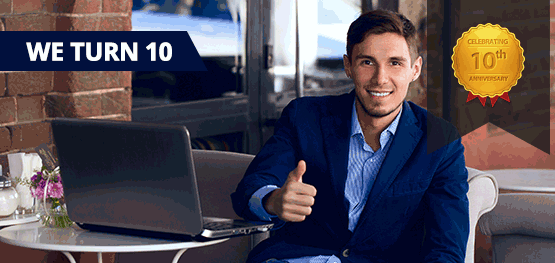 We believe, GetFriday has gone on to bring about a positive change in the lives of all its clients, no matter how small or big the task outsourced. During a time when personal virtual assistance services were literally unheard of, GetFriday sprang up in 2005 as the sister concern of YMII (Your Man In India) and began offering personal, administrative, secretarial and specialized services to clients, virtually.
The success of our venture, which began way back in 2005, was featured and documented in the best-selling book, "4 Hour Work Week" authored by Tim Ferris, in 2007. Within just a span of 2 years, GetFriday achieved so success and acclaim and carved its place as an indomitable player in the market of virtual assistance services.
As a celebration of our successful 10-year run and for having been associated with us during our incredible journey, we are going to run a year-long campaign with oodles of benefits and exciting offers for our wide client-base.