Ho ho ho Christmas is just around the corner.
Christmas kindles our emotions. It is the season for expressing love and joy in the form of family get-togethers, merry making and gifting. In fact, gifting is one of the most enjoyed traditions of Christmas. The joy of gifting is in delighting our loved ones. So, gifts must actually satisfy the desires and needs of our loved ones. During Christmas, almost everyone yearns to spend more time with their families, take days off in dream destinations, revel with old friends, and decorate trees and all the more. More than anything else, the first thing we all need for fulfilling these wishes is time. Yes, 'time' makes for a unique gift this Christmas season. In order to make your Christmas merrier than usual GetFriday brings to you 'the Gift of Time'.

On the flip side, festive season also means a lot of chores, both business and personal. For businesses it means wrapping up all your pending accounts and initiating new marketing promotions/activities for the festive sales. While back at our home, our loved ones wait for us to be a part of in a string of festivities and parties. It's a challenge to strike a balance between our work and personal life amid this load of activities until and unless someone assists us.
GetFriday's Gift of Time is a package of hours for which the recipient may avail Virtual Assistance for a range of errands from travel arrangements to data curation. So, while the Virtual Assistant handles all these errands, the recipient may enjoy these free hours. So, you may send this Gift of Time to your loved ones and help them offload the seasonal workload and thereby help them enjoy a carefree holiday season. Follow the steps below to gift time to your near and dear ones this Christmas:
1. Purchase a GetFriday digital gift card
2. Gift it to your loved ones or your friends/family.
3. Your loved one will outsource errands to a Virtual Assistant who will take care of everything.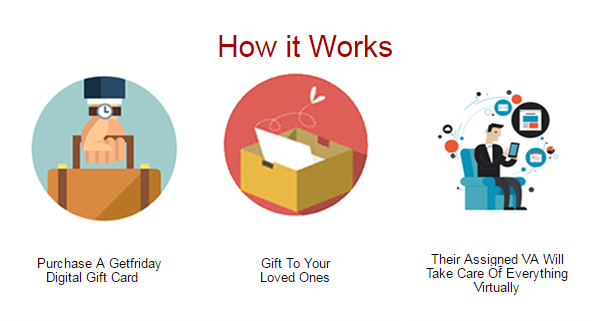 So while a Virtual Assistant takes care of these chores, your loved one may use his/her freed up time to travel, revel and focus on things that are more important for making a merrier Christmas.